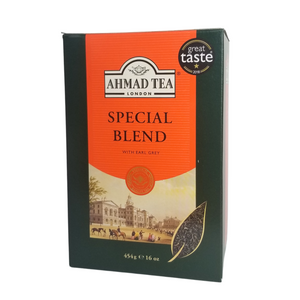 Ahmad Tea London SPECIAL BLEND with Earl Grey 454 g
Regular price
Sale price
$12.09
---
Ahmad Tea London Aromatic Earl Grey Rich colour & Flavour 454g. Great taste 2018 Specially selected leaves from the hillside of Sri Lanka and other countries, enhanced with the delightful scent of bergamot. A full-flavoured tea, full of personality and subtly balanced. Brew Ahmad Tea London SPECIAL BLEND with Earl Grey for 4-8 minutes. Please store in a cool dry place in an airtight container. Ingredients: Black tea, bergamot flavouring
--
Ahmad Tea London Aromatic Earl Grey Rich colour & Flavour 454g. Great taste 2018 Specially selected leaves from the hillside of Sri Lanka and other countries, enhanced with the delightful scent of bergamot. A full-flavoured tea, full of personality and subtly balanced. Fine Ceylon is sourced from Sri Lanka to create a crisp, zesty base. The tea used is 'low-grown' – sourced from gardens below 600 metres (m), where the leaves are famed for their bright, rounded flavour. Brew Ahmad Tea London SPECIAL BLEND with Earl Grey for 4-8 minutes. Please store in a cool dry place in an airtight container. Ingredients: Black tea, bergamot flavouring. Contact us for more today for more information and to buy in Canada and United States.
Water: Always use fresh/filtered water as the quality of water has an impact on the quality of the tea.
Caffeine level: This black tea has more caffeine than teas in our green tea range. It's important to keep in mind that brew time accounts for the primary influence over a tea's caffeine content.
Origin: Sri Lanka, Kenya
Ingredients of Ahmad Tea London SPECIAL BLEND with Earl Grey: Black tea, Bergamot flavouring
Ethical Tea Partnership: Ahmad Tea are proud members of the Ethical Tea Partnership because it means that they are part of the global movement to promote ethical business activity in the tea trade. This includes improving the incomes of the wellbeing of farmers, guaranteeing good working and living conditions, providing opportunities for all, and finally ensuring sustainability in the way they source their tea.